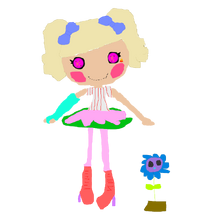 Abbie Le Crepes is the most hyper Lalaloopsy! She gets angry when someone calls her goofoff. Her little sister is Evi La Crepes
Information
Sewn on:March 6, Frozen Food Day
Sewn from:An acrobat's costume
Personality of Abbie
Abbie's personality is an Animal! Evi and Abbie always have fun with each other. Since Evi brought a crazy girl that tells lies, Abbie got crazy and chased her down the roof. Her little sister always tells the truth. Abbie likes the movie Frozen and anything related to popsicles.
What Abbie Looks Like
Abbie has light yellow hair in pigtails and bright blue bows. She has fair skin, Pink eyes with yellow strings, and Sweet Red cheeks. Her mark is an Apple Dumpling. Abbie has a white shirt with red stripes. A teal removeable cast, and a skirt that looks like a lily pad. She has bright red shoes with purple heels and light pink stockings.
Abbie's Pet
A Purple flower with Indigo Petals, and Squirts water.
Ad blocker interference detected!
Wikia is a free-to-use site that makes money from advertising. We have a modified experience for viewers using ad blockers

Wikia is not accessible if you've made further modifications. Remove the custom ad blocker rule(s) and the page will load as expected.