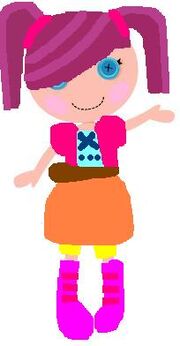 Addie Adventure is a fanmade character by Aliahvenicegarcia. She (and
Abbie Adventure
, her twin sister) is the leader of the Adventure Buttons Line!
Information
Addie was sewn on October 11. She was sewn from an adventurer's coat!
Addie's Personality
Addie loves adventures (the too-dangerous ones!), watching Adventure Time, and chips! She loves watching action and suspense movies. She loves going on adventures with the Adventure Buttons.
Addie's Appearance
Addie wears a sky-blue-mint t-shirt with an X and dots on it. She also wears a fuschia coat and an orange skirt. She has a brown belt.
Addie has pale skin with Purple hair (like Harmony B. Sharp's). She wears pink boots and yellow bloomers.
She has blue eyes.
Addie's Pet
She lost her pet in an adventure. 
Addie's Home
She lives in a simple house. The walls are fuschia and the roof is pink. There are treasure maps all around her house. (It's her sister's house, too)
Addie's Merchandise
Addie Adventure Toys 'R' Us Exclusive Full Sized Doll
Addie Adventure Toys 'R' Us Exclusive Mini
Addie Adventure Adventure Buttons Pack with Finn D. Human, Marcy Leane Bloody, Flare Fire Princess, Abbie Adventure and Jake Magic 'N' Dog
Addie Adventure JanSport Lalaloopsy Backpack
Addie Adventure and Abbie Adventure Twin Pack
Guess What!
She once lost in a fight.
She does not look like her twin.
Ad blocker interference detected!
Wikia is a free-to-use site that makes money from advertising. We have a modified experience for viewers using ad blockers

Wikia is not accessible if you've made further modifications. Remove the custom ad blocker rule(s) and the page will load as expected.