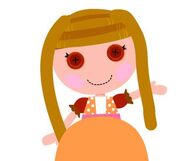 Cookiez Rock 'N' Roll was sewn from Cookiez Rockers's jeans. She's awesome and loves Manga! She reads a lot of thick books like The Hunger Games trilogy, Percy Jackson and The Olympians, Heroes of Olympus and such. She's a huge grammar nazi and is totally LAZY. She has a habit of doing homework at school. As they say, "School is your second home". She was sewn on July 5 (Cookiez Rockers's Birthday)
- ALL INFORMATION REGARDING THE FOUNDER AND HER DOLLS WILL BE DELETED DUE TO HARASSMENT FROM AN UNKNOWN INDIVIDUAL -
Eriel Deviant Art Was Sewn from Eriel's Drawings. She is very mischievous and childish, and loves doing sports.
She's a cartoonist in Young Writers Club. She is very cute and she loves drawing. She can do animations just like eriel.
Ad blocker interference detected!
Wikia is a free-to-use site that makes money from advertising. We have a modified experience for viewers using ad blockers

Wikia is not accessible if you've made further modifications. Remove the custom ad blocker rule(s) and the page will load as expected.