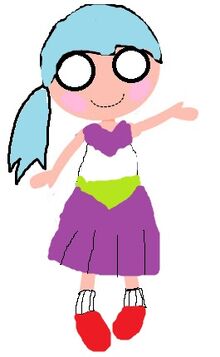 Since I have extreme lag, I had decided to release 15+ unreleased dolls. Some are even from last year! Ahem, Amanda was based from one of my old drawings saved in Datadisk D.
Info
Sewn date: March 30
Sewn from: Purple, white, and green squad dress (with a teeny bit of brain goo)
Personality
She is 99.9% Lalaloopsy doll and 0.1% zombie, so She has the loving and caring personality of Lalaloopsy. But she has a small appetite of brains. Although, she doesn't really bite.
Appearance
She has a similar squad dress that she was sewn with. Her hair color is blue, and her eyes aren't buttons. Her eyes are huge, plain white circles with black lines. She also has red shoes.
Pet
She never had a pet, and she never will!
Home
She used to live in the LCDI Graveyard, but she moved to the Gravy Yard during last April Fools Day.
Other Merchandise
Full Size Doll
Limited Edition Mini (Only 300 were made because of her theme)
Kitty La White and Amanda Cheer Zombie themed M&M's Chocolate
Ad blocker interference detected!
Wikia is a free-to-use site that makes money from advertising. We have a modified experience for viewers using ad blockers

Wikia is not accessible if you've made further modifications. Remove the custom ad blocker rule(s) and the page will load as expected.