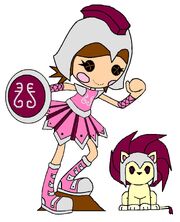 By: PICTURE-PUURFECT
Information
Sewn on: December 5th (Roman Empire day)
Sewn From: A roman warriors Cape
Personality of Arena 
Arena Tame.A.Lion is a boystrous lion tamer you will often find her training lions in the Lalaloopsseum. She loves to wow the crowds with the fantastic acts her lions perform.
What Arena Looks Like
Skin: fair
Eyes: Black.
Head: Brown Hair in 2 pig tails. She wears a Roman warrior helmet silver and dark pink.
Torso: Pink top 2 silver shoulder pads a silver motif and silver waste band.
Bottom: Dark Pink skirt with pink leather guards silver trim and dark pink studs.
Shoes: pink and silver high top boots
Other accessories: Pink Leather arm bands
Arena's Pet
Bravo lion has a large magenta colored mane and wears a protective helmet. He has creme colored fur.
Arena's Home
Roof: Traditional athens roof
Walls: Traditional Athens pillars
Other Merchandise
Large Doll comes with pet and poster