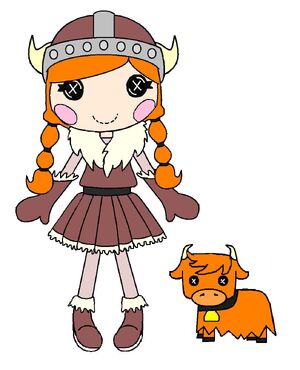 By: PICTURE-PUURFECT
Information
Name: Asterix Small Viking Sewn on: June 9th (The day of the Highland games)

 Sewn from: A vikings Armour
Personality of Asterix
She loves to toss cabers and eat hagus. She is wildly athletic she is strong and mighty despite her size. She plays the bag pipes and dances the higland jig. You will often find her up in the mountains training for the highland games.
What Asterix Looks Like
Skin: Tan
Eyes: Black Buttons
Head: Orange Hair in braids with fringe. Wears a Viking Helmet.
Torso: wears a brown dress with a large fluffy collar to keep her warm through the harsh winters.Wears a purple grey undergarment.
Bottom: Purple grey leg warmers
Shoes: Brown Ugg Boots with white fur trim.
Other accessories: Brown Gloves with white fluffy trim.
Asterix' Pet
Her pet is a highland cow who trains just as hard as she does and stays by her side through thick and thin.
Asterix' Home
Roof: tartan with bag pipe chimneys
Walls: Tartan and cabbers.
Other Merchandise
Large doll comes with poster and pet.