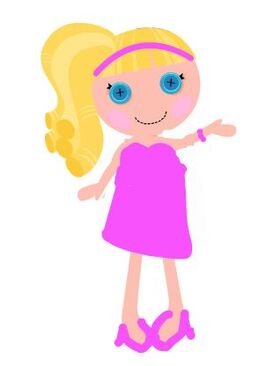 Meet 
Barbara Doll, 
she is the Lalaloopsy version of Barbie! Another customized lalaloopsy doll by Oriana2003love
Information
Sewn on: March 9th (Barbie's Birthday)
Sewn from: Barbie's Dress
Personality of Barbara
Barbie loves fashion! She has a really humongous closet!
What Barbara looks like
Hair color: Blonde
Hairband color: Pink
What she wears: A pink dress and pink stilletos
Her sewn-on pattern on her dress: Pink
Other things on her dress: N/A
Barbara's Pet
Actually. she has three pets named Taffy, Tawny and Blissa
Barbara's Home
Barbie's home is a big pink mansion she calls "The Dreamhouse"
Barbara's other merchandise
Full sized lalaloopsy doll  Barbara
Guess What!
Barbara has a pet Horse, Dog and Cat
Barbara has everything!
Her name was changed due to avoid copyright infringement
Gallery
Ad blocker interference detected!
Wikia is a free-to-use site that makes money from advertising. We have a modified experience for viewers using ad blockers

Wikia is not accessible if you've made further modifications. Remove the custom ad blocker rule(s) and the page will load as expected.