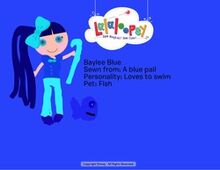 Baylee Blue was a doll I forgot to post. But don't worry! Two more dolls are coming soon
Information
Sewn date: March 22 (World Water Day 2014) she has lots of blue!  
Sewn from: A blue pai
Personality of Baylee
She loves to swim and loves the water! She also peforms with her signature bamboo cane
What Baylee Looks Like
She has blue long hair with a pretty bow! She has a blouse with a bowtie and buttons. And she wears leggings and blue tap dancing shoes!
Baylee's Pet
Her pet is Fins the fish!
Baylee's Home
Her house is a fishbowl.
Other Merchandise
Full size doll
Mini doll
Complete Lalacolors Mini Pack
Ad blocker interference detected!
Wikia is a free-to-use site that makes money from advertising. We have a modified experience for viewers using ad blockers

Wikia is not accessible if you've made further modifications. Remove the custom ad blocker rule(s) and the page will load as expected.