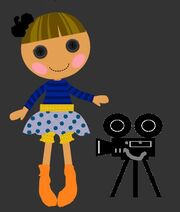 Benjamin is a cute french actor who  goes in lots of movies.Sibling:Gidion Pshyic De
Information
Sewn On:9,14,1948
Personality of Benjamin
He is a very talented actor and kknows lots of launguastics.Lots of girls love him but he has feelings for Suzette.He is always ready to speak up in the crowd  but is  very shy at times.He has a brother named  Gidion Pshyic De.His favorite things are being in movies,hanging out with his gf.
What Benjamin Looks Like
Benjamin has tan skin and brown hair. Unfortunatley Keith put him in a dress.
Pet
He has a pet  movie camera.
Home
He lives in a theatre
Other Merchandise
Big
Mini
Mini and Big Romance Pack with Suzette
Soft Doll
Micro (discontinued)
Lalaloopsy Girls Fancy French Date Night Playset
Lalaloopsy Tinies- Benjamin with theatre
Guess What!
He is sewn on the day the paris theatre opened
His friends are:
Twilight Mellowtone
Flare Fire Princess
Death Stitched n Sewn
Kanesan Teto
Savanna Kawaii n Epic
Jock Pompoms