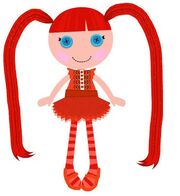 Blair Red is the third Lalacolors girl to be released!
She is Issa Perez's tenth large doll and eleventh overall.
Information
Sewn on: February 7 (National wear red day)
Sewn from: An apple
Personality
She is short tempered, which means she gets angry easily, but she Is still nice. She is also immune to fire!
What she looks like
Hair color: Red
Eye color: Blue
What she wears: A red dress with stockings, and red slippers
Pet
Her pet is a Tomato from Mars!
Home
Blair lives in a house which burns forever!
Friends!
Lady Fireball
Pinky Poodle 
Guess what!
Other Merchandise
Loopy hair doll
mini Loopy hair doll
Lalacolors 2-pack! - with Pinky
mini lalaloopsy Lalacolors 2-pack! - with Pinky
mini lalalooosy Lalacolors 4-pack! - with Pinky, Gina, and Sunny Yellow
mini lalaloopsy Lalacolors complete collection! - with all the Lalacolors girls plus Princess Rainbow Loopenboom
Buttontails Tomato Plush
Gallery
Ad blocker interference detected!
Wikia is a free-to-use site that makes money from advertising. We have a modified experience for viewers using ad blockers

Wikia is not accessible if you've made further modifications. Remove the custom ad blocker rule(s) and the page will load as expected.