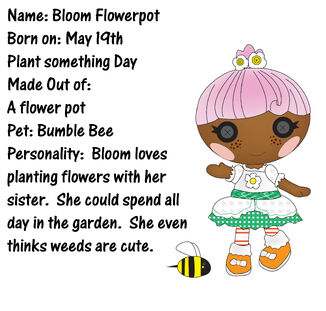 Bloom Flowerpot was my idea for a little sister for Blossom Flowerpot before the offical Petal Flowerpot was released. 
Adobe Illustrator by Missflyingtoaster.
Information
Sewn On: May 19th
Sewn From: A flower pot
Personality of Bloom
Bloom loves planting flowers with her sister. She could spend all day in the garden. She even thinks weeds are cute.
What Bloom looks like
Hair Color: pink
Hairflower Color: White with yellow
What she wears: A white dress with puff sleeves and underskirt, stripe tights
Her sewn-on pattern on her dress: Green plaid
Other things on her dress: A daisy, plaid belt
Bloom's Pet
A bumblebee
Bloom's Home
Roof: Flowers and grass
Wall Color: Green
Bloom's other merchandise
Bloom Little
Bloom and Blossom two pack Mini
Guess What!
Bloom is acutally allergic to bumblebees.
Bloom loves strawberry ice cream, it matches her hair!
Bloom is the original name for the real little sister of Blossom
Bloom thinks weeds are cute but Blossom does not.
Ad blocker interference detected!
Wikia is a free-to-use site that makes money from advertising. We have a modified experience for viewers using ad blockers

Wikia is not accessible if you've made further modifications. Remove the custom ad blocker rule(s) and the page will load as expected.