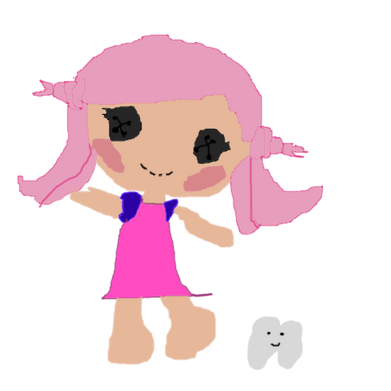 Brace E. is the sister of Smile E. Wishes.
Information
Sewn on February 13 (Dream your Sweet Day)
Made from a toothpaste cap
Personality of Brace
Very girly. Sassy and strict. Wants everyone to think her hair is sassy. Never plays with her sister, Smile E. because she is not a true friend.
What Brace Looks Like
Brace E. has Pink Hair in twists and Pigtails. She has no shoes, and she has a simple dress. (DUH! She is sewn from a toothpaste cap!) She has indigo sleeves and no shoes.
Brace's Pet
A cute tooth
Trivia
Smile E. wants Brace E. to be kind to others.
Brace E. will join Miss Lalaloopsy Little Univerese 2014
She hates Twinkle and all the others
Her friends are Twisty and Trinket
Brace E. is no longer friends with Annette, Crepes or Mimi because Suzette and Annette talked about Brace E.'s bad additude
Ad blocker interference detected!
Wikia is a free-to-use site that makes money from advertising. We have a modified experience for viewers using ad blockers

Wikia is not accessible if you've made further modifications. Remove the custom ad blocker rule(s) and the page will load as expected.