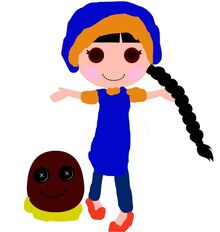 Third of the unreleased dolls is Burger, who had been on WIP since about November 2013. But, completey done. Anyways, Burger is a girl, who has her own fast food restaurant. Anyone is welcome to eat there, they even have vegan (no animal products completely) burgers! Ok, back to Burger. I also admit using braids instead of back hair T-T
Information
Sewn date: April 15 (McDonalds Corp. Founding Day)
Sewn from: A Fast Food Worker's Hat
Personality
Burger is a busy girl who is always cooking patties in the grill.. But during Sundays, she spends the day hanging out with her friends.
Attire
She wears her Patties Cafe uniform, jeans, and flats.
Pet
Her pet is a patty, and he leaves a trail of grease every time he "walks".
Home
She lives in her secret room in her Patties Cafe.
Other Merchandise
Full Size Doll
Mini Doll
Full Size Sister Pack - with Fries
Mini Sister Pack - with Fries
Complete Burger Family (Full Size) ~ with Fries and Drumstick
Complete Burger Family (Mini) ~ with Fries and Drumstick
Guess what!
April 15th is McDonalds Corp. Founding Day.
Ad blocker interference detected!
Wikia is a free-to-use site that makes money from advertising. We have a modified experience for viewers using ad blockers

Wikia is not accessible if you've made further modifications. Remove the custom ad blocker rule(s) and the page will load as expected.