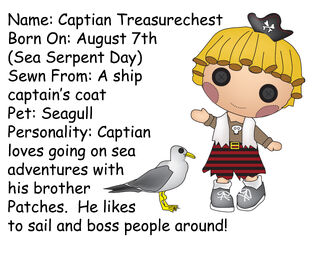 Captain Treasurechest is the little brother of Patch Treasurechest!
Information
Sewn On: Aug 7th
Sewn From: a ship captian's coat
Personality of Captain
Captain loves going on sea adventures with his brother Patches. He likes to sail and boss people around!
What Captain looks like
Hair Color: Yellow
Hat Color: Black with white
What he wears: A brown shirt with skull, white vest, stripe pants
sewn-on pattern on outfit: Black and Red stripe
Other things on outfit: belt buckle
Captain's Pet
His pet is a seagull
Captain's Home
Roof: wooden planks with pirate flag
Wall Color: ocean blue
Captain's other merchandise
Captain Lalaloopsy Little
Two Pack Mini with Patches
Guess What!
Captain sometimes spells his name wrong
Captain is the first boy Little to be made mini
Ad blocker interference detected!
Wikia is a free-to-use site that makes money from advertising. We have a modified experience for viewers using ad blockers

Wikia is not accessible if you've made further modifications. Remove the custom ad blocker rule(s) and the page will load as expected.