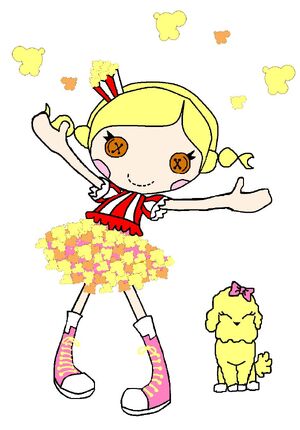 By: PICTURE-PUURFECT
Information
Name: Caramel Pop.N.Good
Sewn on: December 11th (National Popcorn Day)
Sewn from: A bag of pop corn
Personality of Caramel
Caramel Pop.N.Good is friendly and energetic she may come off as a little eccentric but only wants to laugh and play. She loves inviting friends over for movies and pop corn making sure she never leaves a kernel of corn un popped she makes the best pop corn in all of lalaloopsy land.
What Caramel Looks Like 
Skin:  fair
Eyes: Brown.
Head: Yellow Hair like buttery pop corn she has 2 twisty ponytails on the sides of her head with the back bunched up and held in place by a head band that matches her hair color. Connected to the head band she has a decorative box of pop corn 
Torso: A frilly red and white striped short sleeve shirt.
Bottom: A pink Skirt with pieces of pop corn all over 
Shoes: Pink and White High tops with buttery Yellow Laces 
Caramel's Pet
Pup Corn is a Buttery yellow dog thats fur looks like pop corn. 
She has one accessorie which is her cute little pink bow that sits on her head.
Caramel's Home
Roof: A mixture of caramel and butter pop corn with pink trim
Walls: red and white stripes like a pop corn box looks similar to peanut big tops house.
Other Merchandise
Large doll comes with pet and poster