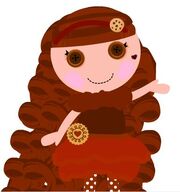 Caramelle `D Chocolat is the first ever
French Chocolate Lalaloopsy! 
She's a Fanmade Character by Alyssabeatricegabriel
Information
Sewn On: December 8th - National Brownie Day
Sewn From: A French Chocolate Bar
Caramelle's Personality
She was sewn on France and She only knows how to speak French. A LOT of her friends don't understand her. She loves chocolate and some of her friends think she only eats chocolate.
Caramelle's Appearance
She wears a Brown-Light Brown blouse along with a ruffly skirt. Her belt has a heart-shaped cookie on it. She also wears a cookie headband. She has polka-dotted leggings.
She has light skin with a heart birthmark on her face. She has brown eyes.
Caramelle's Pet
Basically, she doesn't want, need or have a pet. She doesn't have one!
Caramelle's Home
She lives in Chocolateville, LCDI.
Caramelle's Merchandise
Caramelle `D Chocolat Full Size Collector's Edition Doll
Guess What!
She doesn't know how to speak English.
caramelle
Ad blocker interference detected!
Wikia is a free-to-use site that makes money from advertising. We have a modified experience for viewers using ad blockers

Wikia is not accessible if you've made further modifications. Remove the custom ad blocker rule(s) and the page will load as expected.