Cherry Cupcake is the sweetest doll you can wish for! She's a sweetie pie who loves baking cookies and cupcakes! She wants to be the queen of cupcakes one day!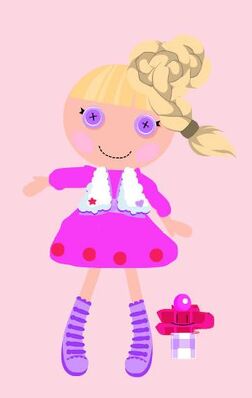 Information
Sewn On: November 21st (Cupcake Queen's birthday)
Sewn From: A Vanilla Cupcake
Personality of Cupcake
Cupcake is a chef who loves making cupcakes! Her favourite ones always have a cherry on top!
What Cherry looks like
Hair Color: Cake
Hairband Color: None
What she wears: A pink dress with red spots and a white crop jacket.
Her sewn-on pattern on her dress: Red stars and lilac hearts.
Other things on her dress: A mini red star and a mini lilac heart.
Cherry's Pet
Her pet is a cupcake with a lilac chekered base, red checkered icing, and a cherry! Its hard for a few people to see his face!
Cherry's Home
Roof: Blobbed cream icing and a cupcake in the corner.
Wall Color: Lilac
Competitions
Cherry has entered one of the Lalaloopsy Customized Dolls Wikis competitions. These are:
Ms. Lalaloopsy Universe August 2013
Cherry's Other M

erchandise
Cherry Mini
Cherry Loopy Hair
Cherry Micro
Guess What!
She is the Cupcake Queen!
She might become real!
Her pet is edible like Crust Pepperoni 'N' Cheese
She is featured on the Wiki Wall.
November 21st is Cupcake Queen's birthday.
Gallery