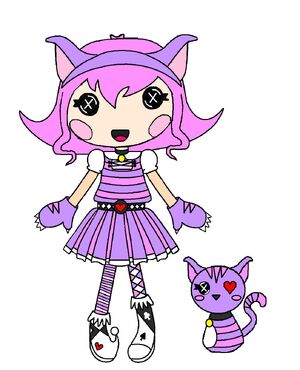 By: PICTURE-PUURFECT
Information
Name: Chessy Purr Fection
Sewn On: 4th May (Peculiar Pets Day)
Sewn From: The fur of the most peculiar cat in all of wonderland Cheshire Cat.
Personality of Chessy
Chessy is a mischievously peculiar girl who loves odd things she talks many strange languages and would be as happy in a frustratingly hard to escape maze as she would be cozied up by a nice warm fire with a ball of yarn at home. You will often find her hanging upside down in a tree or creating mischiveous plots to confuse her friends.
What Chessy Looks Like
Skin: Fair
Eyes: Black Buttons
Head: Pink Hair with back flicks and twirly fringe. Purple and pink cat ear head band 
Torso: Baggy puffy short sleeved top with horizontal pink and purple stripes. over a light purple top with a white collar and black string to tighten at the front.
Bottom: Black and white diamond patterned belt has heart buckle. Vertical pink and purple skirt that also has white trim.
Shoes: Miss Match High tops one longer than the other both with frilly trims on the top one has diamond and heart suites and the other has spades and clubs both colored black and white. she wears stockings but one legs pattern is different to the other. one is stripes and one is diamonds.
Other Accessories: Purple Kitty Cat Paws with pink claws. Black Kitty Cat collar with golden bell.
Chessy's Pet
Catty Kitty is a pink and purple cat who is just as mischievous as Chessy.
Chessy's Home 
Roof: Stacks of odd peculiar things
Walls: Stacks of odd peculiar things
Other Merchandise
Large Doll Comes with Pet and Poster.
Ad blocker interference detected!
Wikia is a free-to-use site that makes money from advertising. We have a modified experience for viewers using ad blockers

Wikia is not accessible if you've made further modifications. Remove the custom ad blocker rule(s) and the page will load as expected.