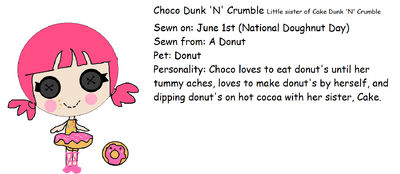 Choco Dunk 'N' Crumble is one of the Lalaloopsy Littles Sweet Shoppe Series.
Information
Sewn on: June 1st (National Doughnut Day)
Sewn from: A Donut
Personality of Choco
Choco loves to eat donut's until her tummy aches, loves to make donut's by herself, and dipping donut's on hot cocoa with her sister, Cake.
What Choco looks like
Hair Color: Hot Pink
Hairband Color: Does'nt have one
What she wears: A donut skirt with pink icing and pink sprinkles and rainbow sprinkles on her shirt, and cute little shoes.
Her sewn-on pattern on her dress: Donut with sprinkles
Other things on her dress: No sleeves
Choco's Pet
Her pet is a donut!
Choco's Home
She lives with her older sister, Cake Dunk 'N' Crumble
Choco's other merchandise
Guess What! 
She shares her name with Choco Whirl Swirl
Gallery