CiaraRocksFanon is a new lalaloopsy little! Her big brother is
KeithArnaultsFanon
!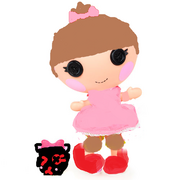 Sewn on: May 6th (Be Cute Day). Sewn from: A pink dress. Sadly, she's retired now.
Personality
She loves makeup, girl stuff, dress up, and sweets! She loves to be cheerful and pick some flowers!
Appearance
She shares Trinket's hairstyle and has brown hair and a pink bow. She has a pink dress. She has red shoes and brown pants.
Pet
Her pet is a black kitten named Miyolo. Miyolo has a magenta bow on her head and her skin color is black. She had pink cheeks and red eyes with one wink on each eye. She also has a red nose.
Home
She lives with her big brother, KeithArnaultsFanon!
Merchandise
Full Size Doll
Full Size Sister Pack
Mini Sister Pack
Guess What!
Her and KeithArnaultsFanon has the same brown hair!
Ad blocker interference detected!
Wikia is a free-to-use site that makes money from advertising. We have a modified experience for viewers using ad blockers

Wikia is not accessible if you've made further modifications. Remove the custom ad blocker rule(s) and the page will load as expected.