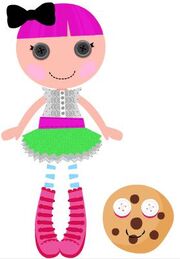 Cookie D. Dipper is a Lalaloopsy Custom by KeithArnaultsFanon and was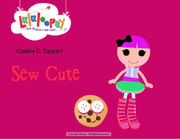 later improved by Aliahvenicegarcia.
Information
Cookie D. Dipper was sewn on September 4th (National Cookie Lover Day)
Sewn from: A Present, maybe.
Personality of Cookie
She loves to eat cookies! Her favorite cookie flavour is Chocolate Chip!
What Cookie looks like
Hair Color: Magenta
Bow Color: Black
What she wears: A grey blouse with a pink belt and green skirt.
Her sewn-on pattern on her dress: Green tulle
Cookie's Pet
Her pet is a Cookie with White Button Eyes!
Cookie's Home
She lives in a cookie house (that's edible)
Guess What!
Ad blocker interference detected!
Wikia is a free-to-use site that makes money from advertising. We have a modified experience for viewers using ad blockers

Wikia is not accessible if you've made further modifications. Remove the custom ad blocker rule(s) and the page will load as expected.