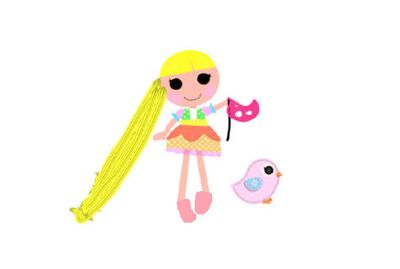 The loopsy in disguise!
Information
Sewn On: Unknown
Sewn From: a cosplayed outfit
Personality of Cosplay
Cosplay loves to pretend to be someone else,Whenever a new lala comes to town,she cosplays that person. If she cosplays a fancy loopsy,she can be become spoiled and self centered (not as much as Goldie), but she still loves her friends
What Cosplay looks like
She regulary wears a rainbow dress with red,orange,yellow,green,blue and purple on it. But when she's cosplaying,she always wears the same outfit as someone else
Cosplay's Pet
She has a pink bird. In the tv show,she pretends to be the other pets
Cosplay's Home
She lives in a colorful house
Cosplay's Other Merchandise
Cosplay Full Size
Cosplay Mini
Cosplay Large Playset "Cosplay's Wardrobe" exclusive to TRU
Cosplay Loopy Hair
Friends
Roleplay
Blossom
Bubbles
Buttercup
Gloomy
Rarity (always gives her fashion advice)
Flare
Death
Benjamin
Twilight
Guess What!
She is rivals with Confetti Carnivale!
She entered the pageant
Gallery