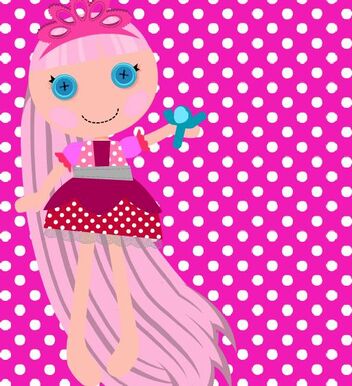 Created By: Patchthepirate19
Information
She is a Second in Command Officer in Stitchugal. Her rank was next to Coal which is Commander.
Sewn On: May 18
Sewn From: A pink caumoufladge
Personality of Darryl
She is sweet and kind. She can cry easilly but she is couragous! She is a fixer upper. And she is kind of cold hearted. In a way , she is kind of affectionate.
What Darryl looks like
She has a light pink hair wih a tiara. Her eyes are blue. She has a pink dress with the same detailing like Jewel. Her hair is LOOOOOONG
Darryl's Pet
She doesn't like animals that much.
Darylls Home
In a crystal dump.
Trivia
Even though she was killed in their wedding day, She will be reborn.
She and Coal are only 18 years old when they tried to get married.
She was currently 20 years old.
You can find her on the LLH wiki
She has no shoes like Orange Dips.