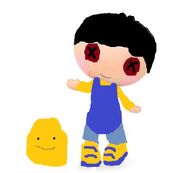 I renamed him to Drumstick so he can have a more masculine name. Ok, here's Drumstick, Burger's little brother.
Information
Sewn on: July 6 (National Fried Chicken Day)
Sewn from: A Fast Food Worker's Hat
Personality
Drumstick is the waiter at Patties Cafe. He is pretty fast at taking orders and bringing food.
Appearance
Like Fries, he doesn't wear the Patties Cafe hat. His appearance includes the Patties Cafe Apron, a gold-colored long-sleeve, jeans, and gold-colored rubber shoes.
Pet
His pet is a chicken nugget.
Home
His home is in Patties Cafe, in a room shared with Fries
Other Merchandise
Littles Doll
Complete Burger Family (Full Size) ~ with Burger and Fries
Complete Burger Family (Mini) ~ with Burger and Fries
Ad blocker interference detected!
Wikia is a free-to-use site that makes money from advertising. We have a modified experience for viewers using ad blockers

Wikia is not accessible if you've made further modifications. Remove the custom ad blocker rule(s) and the page will load as expected.