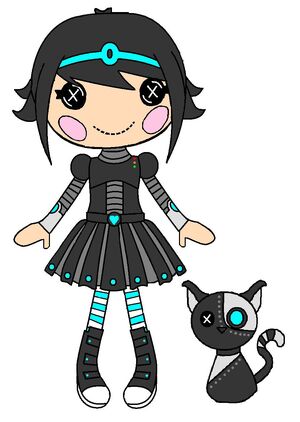 By: PICTURE-PUURFECT
Information
Name: Electra Cybertronic
Sewn on: 18th January (The National Day Of Unplugging)
Sewn from: Robot Circuits
Personality of Electra
With an electric personality making friends is easy for Electra. She is a studious type who is always learning new things.
What Electra Looks Like
Skin: Fair
Eyes: Black
Head: short black hair
Torso: robot top black chrome with red, green, orange lights. Black chrome belt with glowing electric blue heart long sleeved with light grey cuffs and blue screens.
Bottom: Black chrome studded with electric blue studs. Blue and white striped stockings.
Shoes: black high tops 
Other accessories: Electric blue head piece 
Electra's Pet
Sparky is Electras loyal kitty.
Electra's Home
Roof: metal
Walls: Electrical circuits
Other Merchandise
Large doll comes with pet and poster.
Ad blocker interference detected!
Wikia is a free-to-use site that makes money from advertising. We have a modified experience for viewers using ad blockers

Wikia is not accessible if you've made further modifications. Remove the custom ad blocker rule(s) and the page will load as expected.