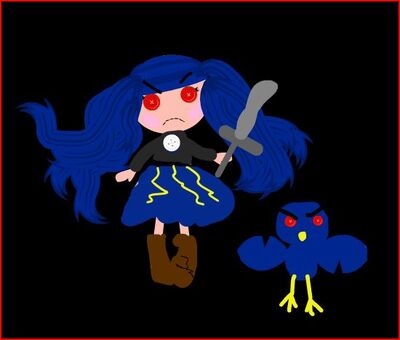 Information
Sewn on: September 11 (The day of the terrorist attacks)
Sewn from: A Criminals coat
Personality of Eva
Eva loves to plan destroying lalaloopsy land and she is not nice to other lalaloopsies! She also competes in a game called Ninjitzu with Vocaloi Ninja. She hates everyone! Except her evil little sister, Katherine Dark Side.
What Eva looks like
Hair Color: Blue
What she wears: Gray sweater with black belt and a SCARY lightning skirt, she is also wearing old, broken boots.
Her sewn-pattern on her dress: DARK BLUE
Other things on her dress: A big white button on the gray sweater
Eva's Pet
Eva's pet is a SCARY bird with RED EYES!!!
Eva's Home
Roof: Swords and Boxing gloves
Wall color: Black
Eva's other merchandise
Full Sized Eva Doll
Mini Lalaloopsy Eva Doll
Mini Lalaloopsy Series two Eva doll Eva's evil plot
Eva Loopy Hair
Eva Silly Hair
Lalaloopsy micro Eva
Guess What!
She is the second lalaloopsy doll to have a stitched on frown, along Gloomy Pink Bow
She is SUPER SCARY!!!
Eva and her little sister are both evil sisters
She got arrested for kidnapping Crust Pepperoni 'N' Cheese's little sister then she escaped jail
Friends and Relatives
Gallery
Ad blocker interference detected!
Wikia is a free-to-use site that makes money from advertising. We have a modified experience for viewers using ad blockers

Wikia is not accessible if you've made further modifications. Remove the custom ad blocker rule(s) and the page will load as expected.