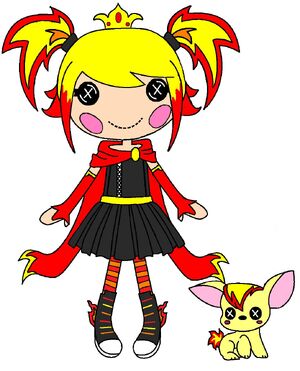 By: PICTURE-PUURFECT
Information 
Name: Flames 'N' Ferno
Sewn on: 5th October (The first day of Fire Prevention week)
Sewn From: She is the fire elemental 
Personality of Flames
She has a fiery passionate personality she is loyal and adventureous. She loves to feel accomplished so is always seeking new challenges and experiences. She is an excellent friend and will never let you down.
What Flames Looks Like
Skin: Fair
Eyes: Black Buttons
Head: Red firey hair in pig tails with two fringes.
Torso: red hanging buttoned. Black corset with yellow belt
Bottom: Ruffled black under skirt. Stripped red and orange stockings.
Shoes: black hightops with flames and firey laces
Other accessories: Crown
Flames Pet
Chihuahua is a firey spirited little pup with an adventurous soul just like Flames
Flames Home
Roof: volcanoe
Walls: volcanoe
Other Merchandise
Large Doll comes with pet and poster.
Ad blocker interference detected!
Wikia is a free-to-use site that makes money from advertising. We have a modified experience for viewers using ad blockers

Wikia is not accessible if you've made further modifications. Remove the custom ad blocker rule(s) and the page will load as expected.