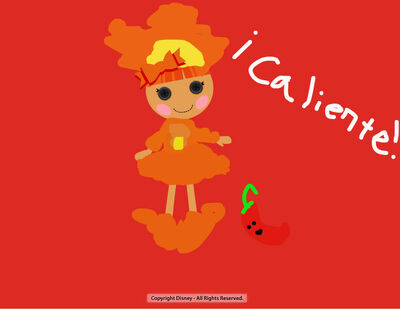 Meet 
Flamey Jalapeno, 
another customized lalaloopsy doll by Oriana2003love
Information
Sewn on: January 20th (Eat a Jalapeno Day)
Sewn from: Fire
Personality of Flamey
Flamey loves eating jalapenos to make her get energy! She also burns when someone touches her! She hates Ember because she does'nt want to be put out! 
What Flamey looks like
Hair color: Orange 
Hairband color: N/A
What she wears: A fire dress with a fire picture and fiery boots 
Her sewn-on pattern on her dress: Red, Orange and yellow
Other things on her dress: Heat
Flamey's Pet 
Flamey's pet is a jalapeno!
Flamey's Home
Roof: Flames and Jalapenos
Wall color: Heat
Flamey's other merchandise
Guess What!
Her last name is named after the the spicy vegetable, Jalapeno
Gallery
Ad blocker interference detected!
Wikia is a free-to-use site that makes money from advertising. We have a modified experience for viewers using ad blockers

Wikia is not accessible if you've made further modifications. Remove the custom ad blocker rule(s) and the page will load as expected.