Meet Fredi Fazbear, she is the Lalaloopsy version of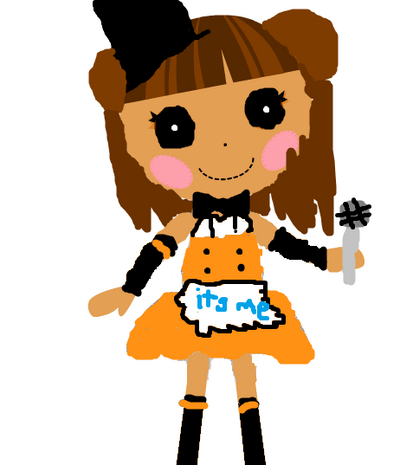 Freddy Fazbear from Five Nights At Freddys! Another customized doll by Oriana2003love.
Information
Sewn on: November 13th (The Bite of '87)
Sewn from: Freddy's Top hat
What Fredi looks like
Hair color: Brown
Hairband color: Black (Her top hat might be considered as a headband)
What she wears: An orange dress with black buttons on the top, and black sleeves with orange lining
Sewn-on pattern on her dress: Orange
Other things on her dress: An apron saying "ITS ME"
Fredi's Pet
Fredi's pet is an animatronic bear named Freddy!
Fredi's Home
Fredi lives in Freddy Fazbears Pizza with Freddy, Chica, Bonnie and Foxy
Fredi's other merchandise
Fredi Five Nights At Freddys exclusive Lalaloopsy Doll 
Guess What!
Her eyes are completely black! Scary, isn't it?
Her favorite food is pizza because Freddy Fazbears sells pizza! She comes over to Crust Pepperoni 'N' Cheese's house to eat pizza with her since Crust likes pizza as well! She also eats other foods.
Gallery
Ad blocker interference detected!
Wikia is a free-to-use site that makes money from advertising. We have a modified experience for viewers using ad blockers

Wikia is not accessible if you've made further modifications. Remove the custom ad blocker rule(s) and the page will load as expected.