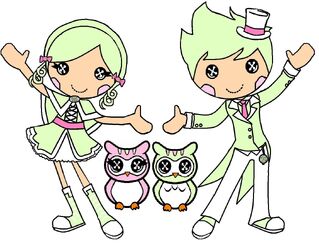 By: PICTURE-PURRFECT
Information
Sewn On: May 21st (The first day of the Gemini Sign)
Sewn From: Gemini the sign of the twins matching outfits.
Personality of Gemima+Gemini
Being twins they not only look identical but share pretty much the same personality. They are energetic, Witty and imaginative. Being very adaptable they do not mind change and will often go where the wind takes them. They are extremely independant and even though they are twins they like to do things individually. Amongst their friends they are very exciting and interesting and will always leave a great impression on any one they meet although they are never there for long being that they grow restless quickly and are not very decisive.
What Gemima and Gemini Look Like
Skin: Fair 
Eyes: Black
Head: Gemima has very short green hair with curly whisps on each side of her face tied down with bows. Gemini has spiky green hair and wears a white and pin top hat.
Torso: Gemima has a green poncho with white trim held by a pin branded with the gemini sign under neathe she has a lace up front with a pink waist band. Gemini has a white long sleeve shirt a green suit jacet and green waist coat. He also wears a pin tie and has a pocket watch branded with the gemini sign.
Bottom: Gemima wears a green peticoat with a frilly white tutu underneath. Gemini wears white suit pants.
Shoes: Twining with almost the same shoes only Gemimas are high tops and Geminis are chucks.
Gemima and Gemini's Pet
They are both owls with black button eyes one girl pink and one boy blue being together is always a hoot.
Gemima and Gemini's Home
Roof: Double house one side green one side pink.
Walls: One side pink one side green.
Other Merchandise
2x Large dolls comes with poster and 2 pets.
Ad blocker interference detected!
Wikia is a free-to-use site that makes money from advertising. We have a modified experience for viewers using ad blockers

Wikia is not accessible if you've made further modifications. Remove the custom ad blocker rule(s) and the page will load as expected.