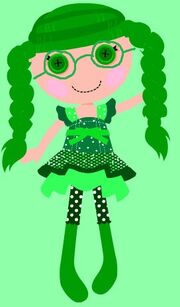 Gina Green is Issa Perez's Ninth full size doll and tenth Lalaloopsy doll overall.
Information
Sewn date: April 22 (Earth day)
Sewn from: A Leaf
Personality
She wants to help the environment. She is against cutting tress, and always likes recycling. I forgot to mention Gina is a great golfer!
What she looks like:
Hair olor: Green
Eye color: Green
What she wears: a green eco-friendly dress, and green boots.
Pet
Her pet is a flower!
Home
Her house is two floors, and eco Friendly. Her house house surrounded by three leaf clovers, but four of them are four-leafed!
Friends!
Sunny Yellow
Polly Green Tree
Jackie Green Cat
Clover D. Leprechaun
Other Merchandise
Full Size doll
Mini doll Series #1
Loopy Hair doll
mini loopy hair doll
Lalacolors 2 pack! - with Sunny Yellow
Lalacolors mini lalaloopsy 2 pack! - with Sunny Yellow
Lalacolors mini lalaloopsy 4 pack! - with Sunny Yellow, Blair, and Pinky
Lalacolors mini lalaloopsy complete collection! - With all Lalacolors characters plus Princess Rainbow Loopenboom!
Guess what!
Gallery
Ad blocker interference detected!
Wikia is a free-to-use site that makes money from advertising. We have a modified experience for viewers using ad blockers

Wikia is not accessible if you've made further modifications. Remove the custom ad blocker rule(s) and the page will load as expected.