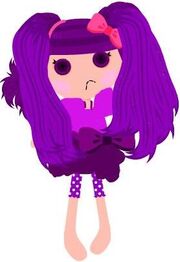 Gloomy Pink Bow is the Lalaloopsy version of Eeyore!
Imformation
Sewn-On: January 2nd
Sewn From: Eeyore's Tail
Personality of Gloomy
She is gloomy, sarcastic, cynical, depressed, pessimisstic, slow, Pouty, Sorrowful and Good hearted. However she hates Peppy for her cheery behavior, although she seems to be friends with Teddy.
Quotes:Whatever
What Gloomy Looks Like
She has fair skin.She has a purple color scheme.She has purple hair with pink bows.She has purple eyes and a purple dress with purple leggings.
Gloomy's Pet
She has a gray donkey
Gloomy's Home
Gloomy has a home made of sticks.It can fall down easily
Gloomy's Other Merchandise
Gloomy's Full Size
Gloomy's Mini
Gloomy Loopy Hair
Friends
Teddy Honey Pots
Scraps Stitched n Sewn
Suzette La Sweet
Guess What!
She has a crush on Emo Gloom n Darkness
She is in the Dark Gothic Group
She is ScrapsStitchedNSewn9's first ever custom doll
She shares her birthday with Waffle Jars N' Jam