Woohoo! First from the VocaButtons line, which are singing computer programs brought to life :P They came out when their final graphic (or whatever) was added and became a loopsy! BTW This is kinda based on Hatsune Miku from Vocaloid. (No, Cookiez, really?)
Information
Hatsu is the first doll from the VocaButtons line! She was made on August 31 and made from teal wires. She became a singing loopsy when the final wire was attached. 
Hatsu's Personality
Hatsu is very bright and cheeky! She loves helping out newcomers and teaching them how to sing perfectly. Sometimes she becomes too controlling and goes on diva mode. She's known to be the top ranker on the VocaCharts. 
What Hatsu Looks Like
Hatsu is fair skinned with pale pink cheeks and teal eyes. She has knee lenght teal hair tied with floating gray and maroone bands. Hatsu wears a gray top with deattached sleeves, a skirt and thigh high (I rhymed :D) boots all outlined with teal. She has the usual triangle patterned belt, colored teal and the number 01 on her shoulder.
Hatsu's Pet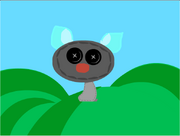 Hatsu's pet is a digital cat! It came out with her when her final wire was attached. It really loves winning pet beauty pageants and playing with Hatsu's microphone. It has light gray fur at his lower body, dark gray fur at it's head and teal ears.
Hatsu's Home
Hatsu lives in the VocaMansion with other VocaButtons! It's a japanese-western style house. Hatsu's room has teal walls and gray sliding doors. She has a maroone western style bed and a recording booth in her room! She also has a bookshelf full of her albums.
Hatsu's Other Merchandise
Hatsu singing full size
Hatsu Full size
Hatsu mini
Hatsu loopy hair doll
Hatsu micro
Hatsu Doll House
Guess What?
Hatsu has a fear of of foxes because of an incident. Long story short, Len. Tei. Pet. Claws. Eye.
Hatsu has been shipped with everyone at least once.
Hatsu likes leeks. LIKES leeks. Negi's overrated...
Ad blocker interference detected!
Wikia is a free-to-use site that makes money from advertising. We have a modified experience for viewers using ad blockers

Wikia is not accessible if you've made further modifications. Remove the custom ad blocker rule(s) and the page will load as expected.