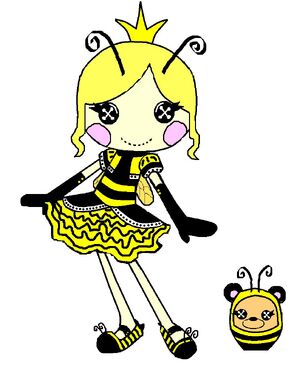 By: PICTURE-PUURFECT
Information
Name: Honey.B.Queen
Sewn On: 17th August (National Honey Bee Day)
Sewn From: Queen bee fuzz
Personality of Honey
Honey is a lovely super sweet girl who delivers sweet honey to all her friends every day. She loves the happy faces she sees anytime anyone tries her honey. You will often find her playing in her gerden filled with loads of different types of flowers she couldn't possibly pick a favourite flower since she loves them all so much.
What Honey Looks Like
Skin: Fair (Yellowy complexion from the pollen)
Eyes: Black Buttons
Head: Blonde hair tied back with a golden crown on top her head
Torso: She wears a smal black and yellow puffy short sleeved open vest with a black and yellow top underneath.
Bottom: Yellow Frilly poofy skirt with a black half over peticoat
Shoes: Open top shoes that look like bess
Other Accessories: yellow wings and black long gloves
Honey's Pet
Beary Bee is a cute little honey bear who disguised himself as a bee to get closer to the sticky sweet honey. When he was caught Honey decided to let him free but beary was so grateful he decided to stay with her forever.
Honey's Home 
Roof: sticky honey
Walls: honey comb
Other Merchandise
Large Doll Comes with Pet and Poster.
Ad blocker interference detected!
Wikia is a free-to-use site that makes money from advertising. We have a modified experience for viewers using ad blockers

Wikia is not accessible if you've made further modifications. Remove the custom ad blocker rule(s) and the page will load as expected.