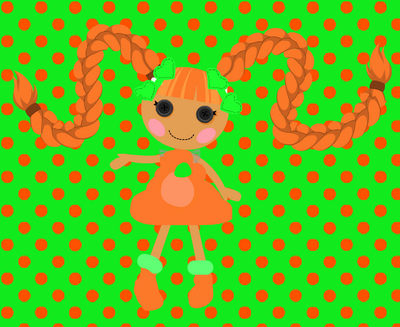 Her name was based on a Shopkin.
Information
Sewn on: October 6th (Orange Day)
Sewn from: An Orange
Personality of Juicy
Juicy loves to make everything out of orange! Also, her favorite colors are Orange and Green!
What Juicy looks like
What she wears: Orange dress with orange picture and Orange and green booties
Her sewn-on pattern on her dress: An Orange
Other things on her dress: An Orange picture
Juicy's Pet
Her pet is an Orange!
Juicy's Home
Roof: Orange Peels
Wall Color: Orange
Juicy's other merchandise
Full Sized Juicy
Mini Lalaloopsy Juicy
Lalaloopsy Micro Juicy
Guess What!
Juicy is named after juice!
She loves oranges because she is ORANGE!
She has the EXACT same first and last name from a character in Shopkins
Gallery
Ad blocker interference detected!
Wikia is a free-to-use site that makes money from advertising. We have a modified experience for viewers using ad blockers

Wikia is not accessible if you've made further modifications. Remove the custom ad blocker rule(s) and the page will load as expected.