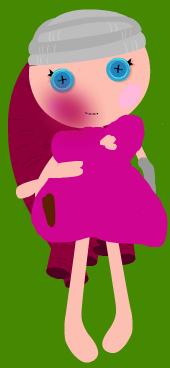 Kathrinne Sewnton is a fanmade character by Aliahvenicegarcia.
Information
Kathrinne Sewnton was sewn on September 22, The real day she was sewn. She was sewn from a rich girl's dress.
History
Kathrinne was once a rich girl that had everything she wanted. She had 3 cars, 109 dolls and more than 20,000 LalaCustomDollars. But, one day, when she and her parents were going to a ball, their car crashed and almost took Kathrinne's life. Her parents didn't remember anything when they got to the hospital. When Kathrinne's parents were healed, they went straight back to their home and forgot Kathrinne. Kathrinne didn't know where to go. She once found a treehouse and stayed there. But, when it was her 5th day living there, some bad guys beat her up and made her go. No one in LCDI saw her since then, except for Sherry D. Invisible (Since you can't see her... That much).
Kathrinne's Personality
Kathrinne once learned to live peacefully and right. She doesn't want anyone to see her, or hear her. She always wants to see her idol, Tori Sing Rocks. Kathrinne has all of Tori's albums, singles and fan merchandise. But when their car bumped, she didn't have ANYTHING. 
Kathrinne's Appearance
Kathrinne is wearing a fuschia pink dress with rags and dirt. She wears bandages over her arm and on her head. She has a bruise on her cheek and her smile is short.
She has pale pink skin with fuschia hair.
Kathrinne's Pet
She lost her pet when their car bumped. Her pet is not dead, since she saw her pet near a girl. Kathrinne didn't want to get her pet, because she wanted her pet to be safe with another owner. Kathrinne had the idea that maybe when their car bumped, the pet went running to another owner.
Kathrinne's Home
She lived in a mansion before she lived in a treehouse. Currently, she doesn't have a house.
Kathrinne's Merchandise
Kathrinne Sewnton Full Sized Doll
Lalaloopsy: The history of Kathrinne Sewnton - A heartbreaking story
Guess What!
Her real name is "Kate Jessica Marielle Sewington". She forgot her real name when their car bumped/crashed.
Because of the last name "Sewington", her long lost sister is Mary Sewington.
After the accident, she got bumped by Melody Jingletunes and Miles Musicnotes' car.
Ad blocker interference detected!
Wikia is a free-to-use site that makes money from advertising. We have a modified experience for viewers using ad blockers

Wikia is not accessible if you've made further modifications. Remove the custom ad blocker rule(s) and the page will load as expected.