Sewn On: Jun. 12 (Philippine Independence Day)
Sewn From: The Philippine Flag
Personality: Kind, Sweet & Hospitable

2. Taylor United States of America
Sewn On: Jul. 4 (USA Independence Day)
Sewn From: The USA Flag
Personality: Loves to sing the national anthem and never stops singing it

Sewn On: Aug. 13 (Korea Independence Day)
Sewn From: The Korean National Flag
Personality: Loves Spicy Food
Sewn date: March 1 (Japan Independence Day)
Sewn from: The Japanese flag
Personality: Likes Sushi! As long it isn't vegan.
5. Bella Chavez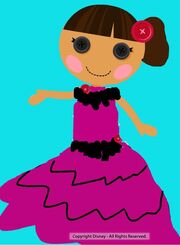 Sewn On: October 12 (Spain Independence Day)
Sewn From: A Spanish Dancer's costume
Personality: Likes to Bailar! (dance) Maria is a "muy sociable" (very social) Lalaloopsy! She loves dancing and making new friends from other countries.
Sewn On:Mar. 4 (Pancake Day)
Sewn From: a sundress
Personality:She loves to roundelays and Russian folk songs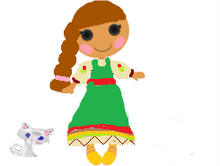 Ad blocker interference detected!
Wikia is a free-to-use site that makes money from advertising. We have a modified experience for viewers using ad blockers

Wikia is not accessible if you've made further modifications. Remove the custom ad blocker rule(s) and the page will load as expected.