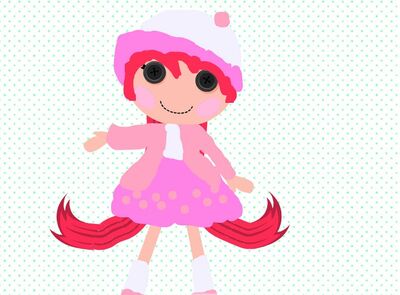 Lickety Split.... Does your hair color remind you of somebody? (Sally Bright Petunia, Sorry)
Information
She was sewn on May 21. She was sewn from a pair of golf gloves. No wonder she loves playing miniature golf!
Personality
Aside for an interest for miniature golf, She is lickety-split fast! Ask her a favor, and she will do it fast!
Appearance
She has a hat with a little ball on top, a small jacket, a hoopskirt, and a white dress. Her hoop skirt has small dots. She also has kneesocks and pink shoes.
Pet
Her pet is an edible rabbit. She also has a pink/white striped bow.
Home
Her home has a pink roof, and lavender walls. The roof also has strawberries and two golf clubs.
Other Merchandise
Full Size Doll
Mini Doll - Sew Sweet Series
Mini Bundle - Sew Sweet Series
Metal Tin Lunchbox with the other Sew Sweet Series
Ad blocker interference detected!
Wikia is a free-to-use site that makes money from advertising. We have a modified experience for viewers using ad blockers

Wikia is not accessible if you've made further modifications. Remove the custom ad blocker rule(s) and the page will load as expected.