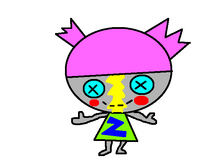 Lightning Brat is a Lalaloopsy Little that is the little sister of Thunder Brat. She likes to play with her big sister's guitar and LOVES to snuggle up in the duo's bunk bed after a long late-night concert. Her name represents the fact that her face is painted to represent lightning coming out of a cloud, and sounding like a spoiled brat when she shouts. Her birthday is on March 19th (Lightning Day) 
Personality
Z is for Zany on Lightning's shirt, but she also has the voice of an angel when she's doing rock.
W.I.P. Please watch for infomation.
Trivia
She is one of the only Lalaloopsy Littles to go around in bare feet, with no shoes or any kind of foot cover.
Ad blocker interference detected!
Wikia is a free-to-use site that makes money from advertising. We have a modified experience for viewers using ad blockers

Wikia is not accessible if you've made further modifications. Remove the custom ad blocker rule(s) and the page will load as expected.