Lightning is the little sister of Scraps!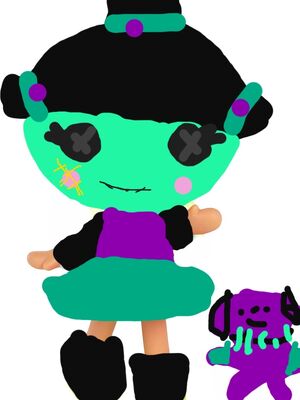 Information
Sewn On:
Sewn From: A witches cape
Personality Of Lighting
Lightning loves to make potions! She loves to read haunted potion books, and make them! She loves her sister and her dog.
What Lightning looks like
Hair Color: Black
Hairband Color: Green and Purple
What she wears: A purple tee with long black sleeves and a green skirt.
Her sewn-on pattern on her dress: Green and purple polka dots.
Other things on her dress: None
Shoes: Black Boots
Lightning's Pet
She as purple dog with a black collar with green spikes. It has black is and green paws. Some people say it has a nose. Others say it has 3 eyes. Who knows? It's not the best pet in the LCDWiki!
Lightning's Home
She lives with her big sister, Scraps!
Guess What!
Her Pet is the same as her big sister.
The green on her face is acctually a face-paint that she likes to wear.
Ad blocker interference detected!
Wikia is a free-to-use site that makes money from advertising. We have a modified experience for viewers using ad blockers

Wikia is not accessible if you've made further modifications. Remove the custom ad blocker rule(s) and the page will load as expected.