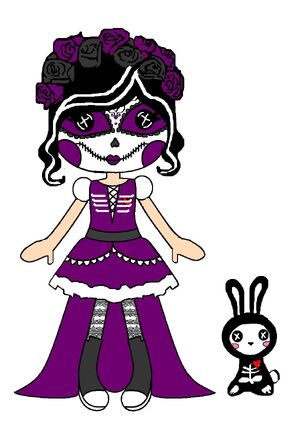 By: PICTURE-PUURFECT
Information
Name: Livy Grave Walker
Sewn On: November 1st (The Day Of The Dead)
Sewn From: Sugar Skull Dress
Personality of Livy
Livy despite her appearance is a lively Girl. She is very brave and honest she will never let you down.
What Livy Looks Like
Skin: Fair
Eyes: Black Buttons
Head: Black hair with white strips and a large purple and black rosed wreath
Torso: Large Pufy White Short Sleeves Purple white patterned corset
Bottom: Long Purple High Low Skirt
Shoes: Black open top shoes with black ankle wraps
Other Accessories: Traditional Day of the dead face paint in purple, black and white.
Livy's Pet
Skeli is Livys best friend he is a bunny dressed in a fullbody skeleton costume. He loves sweets and of course his best friend Livy.
Livy's Home 
Roof: Tiles and green slime
Walls: Bricks ghosts and ghouls
Other Merchandise
Large Doll Comes with Pet and Poster.
Ad blocker interference detected!
Wikia is a free-to-use site that makes money from advertising. We have a modified experience for viewers using ad blockers

Wikia is not accessible if you've made further modifications. Remove the custom ad blocker rule(s) and the page will load as expected.