Logan Mehtilarms is a character in Battleloopsy Warriors. He is a friend of Zack NRG and the muscle of The Heroic 4.
Information
Powers
Logan was born with metal arms which can change into a:
Sword
Hammer
Shield
Whip
Blaster.
They can also be used to pack a punch at enemies!
Weakness
Really, really, really powerful explosives can destroy his arms, however, they regenerate overtime.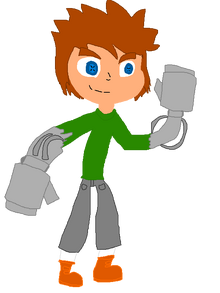 What Logan Looks Like
Logan has a brown, spiked hair, blue buttoned eyes and a stitched mouth. His attire is a green shirt, grey metal arms, grey pants and orange boots.
Logan's Battle Beast (Pet)
A Robot Tiger
Guess What
He is the second Battleloopsy Warriors character.
Ad blocker interference detected!
Wikia is a free-to-use site that makes money from advertising. We have a modified experience for viewers using ad blockers

Wikia is not accessible if you've made further modifications. Remove the custom ad blocker rule(s) and the page will load as expected.