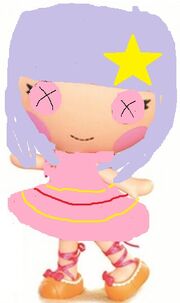 Louise Sings-a-lot is Issa Perez's First Lalaloopsy Little! and fifth Lalaloopsy overall. She is the younger sister of 
Lucille Dance-a-lot
.
Information
Sewn on: August 9 (Whitney Houston's Birthday)
Sewn from: Pieces of an old pink and red dress
Personality
She is a great singer! In fact, she is the best of the littles to sing in Lalaloopsy Land! Whenever Mr. And Mrs. A-lot leave for a getaway, she usally gets locked up in basement because, she is much of a tattletale. Currently, she needs a friend.
What she looks like
Hair color: Lavender
Eye color: Pink
What she wears: Star hairpin, Pink, red, and yellow dress, and ballet shoes
Pet
Her pet is a cute bunny!
Home
She lives with her older sister, Lucille.
Other Merchandise
Louise Littles doll
Louise Silly hair littles doll
A-lot Sister sister pack  with Lucille
Louise Loopy Hair littles doll
Sister pack large loopy hair - with Lucille
Sister pack mini loopy hait - with Lucille
Sister pack large - with Lucille
Sister pack mini - with Lucille
Gallery
Guess what?
Her shoes are the exact same as Twisty Thumbelina's!
One time, she drank one of Helen's poitions thinking it's dancing power juice, Her eyes has laser vision.
She dosen't believe that Lucille can reach the stars. How ever she stopped.
Ad blocker interference detected!
Wikia is a free-to-use site that makes money from advertising. We have a modified experience for viewers using ad blockers

Wikia is not accessible if you've made further modifications. Remove the custom ad blocker rule(s) and the page will load as expected.