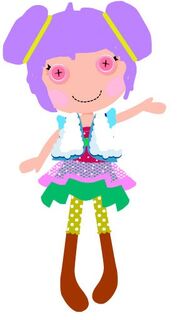 Lucille is the first Custom Lalaloopsy doll by Issa Perez. Her Little sister is Louise Sings-a-lot. Sadly, she's retired now.
Information
Sewn Date: September 21 (The day Issa joins LCDWiki)
Sewn from: Old pink and red dress
Personality
Lucille is a girl who likes dancing of all kinds! Her friends always expect a great peformance from her whenever there is a Talent Show. She also likes inspiring people to one day, shine like a star in the sky. She dosen't listen to her mum and dad. Her nickname is Lulu.
What she looks like
Hair color: Lavender
Eye Color: Pink
What she wears: Hair Ties, Fake fur vest, sparkly pink top with green ribbon, pink and green tutu, polka dot stockings, and fake leather boots
Pet
A star that fell all the way from another universe!
Home
A Pink two-story townhouse with ribbons on the roof
Other Merchandise
Full size doll
mini doll Series #1
Pajamas mini doll Series #4 (2nd edition)
Ball gown collection Series #11 (3rd edition)
Loopy hair
Loopy hair mini
Silly Hair
Large sister pack - with Louise
mini sister pack - with Louise
Lucille's Gallery
Guess What?
She once failed a band audition.
Her pet dosen't have button eyes.
She is Issa Perez's first Lalaloopsy to change design.
Her pet is special like Magic 'N' Tastics, and Birthday Drippy 'n' Yummy.
September 21st is The day Issa joins LCDWiki.
Ad blocker interference detected!
Wikia is a free-to-use site that makes money from advertising. We have a modified experience for viewers using ad blockers

Wikia is not accessible if you've made further modifications. Remove the custom ad blocker rule(s) and the page will load as expected.