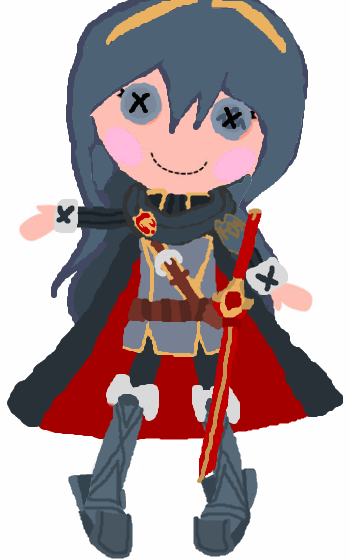 Here's the first doll of the new dolls that Pepsicola will make, Lucina! She is based off Lucina from Fire Emblem: Awakening. This page might contain some spoilers for Awakening, and Lucille, Patricia, Sandy, and Rainbow Loopenboom may potentially recieve redesigns with effort.
Information
She was sewn on April 20th (The day that FE1 and FE9 was released on Japan and Lucina's birthday) and was sewn from "Marth"'s mask.
Personality
Lucina is serious and the oldest among the children of the FE Awakening Lalaloopsies.
Appearance
Lucina wears a golden hairband and has dark blue eyes with the Mark of the Exalt being on her right eye. She wears a dark blue cape, a vest, and a shoulder belt to contain the sheath of her Falchion. She also has a pair of mini-shields on her arms. Underneath, she wears a sweater and leggings, and finally, she wears a pair of boots.
Pet
She doesn't have a pet, like some of the newer Loopsies of mine and of MGA.
Home
Lucina wanders around LCDI, so she doesn't really have a home.
Merchandise
Full Size Doll
Special Full Size Doll with a mask, "Bride" and "Great Lord" outfits, and a base
Mini
Ad blocker interference detected!
Wikia is a free-to-use site that makes money from advertising. We have a modified experience for viewers using ad blockers

Wikia is not accessible if you've made further modifications. Remove the custom ad blocker rule(s) and the page will load as expected.