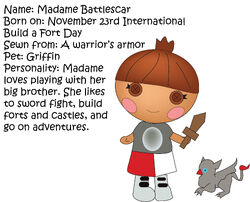 Drawn by me in Adobe illustrator.
Madame Battlescar is the little sister of Sir Battlescar
InformationEdit
Sewn On: Nov. 23th
Sewn From: A warrior's Armor
Personality of MadameEdit
Madame loves playing with her big brother.  She likes to sword fight, build forts and castles and go on adventures
What Madame looks likeEdit
Hair Color: Brown
What she wears: A grey shirt, white and red skirt, silver boots with black buckles
Her sewn-on pattern on her outfit: red and white skirt
Other things on her outfit: A shiny circle
Madame's PetEdit
A grey griffin with blue eyes and red beak and tail fur
Madame's HomeEdit
Roof: Pillows stacked together
Wall Color: A flag with crest on it
Madame's Other MerchandiseEdit
Two pack Lalaloopsy Littles with Duke Stillwaiting
Guess What!Edit
Madame's battlescar is drawn on to emulate her brother
She is the first Lalaloopsy little with brown eyes
She is the first Lalaloopsy Little to be sold in a two pack along with Duke Stillwaiting
Ad blocker interference detected!
Wikia is a free-to-use site that makes money from advertising. We have a modified experience for viewers using ad blockers

Wikia is not accessible if you've made further modifications. Remove the custom ad blocker rule(s) and the page will load as expected.