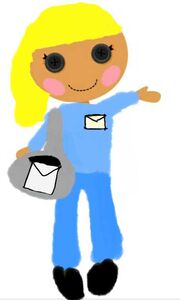 The fastest postman on the LCDI.
Information
Sewn On: October 9
Sewn From: form of the postman
Personality of Maila
Maila trying to do all the time. And it is sometimes impossible.
What Maila looks like
Hair Color: Yellow
What she wears: Blue jacket with blue jeans.
Her sew-on pattern of the dress: Figure envelope
Other things on her clothes: Gray bag for letters
Maila's Pet
Her pet is a cute white homer!
Maila's Home
Roofing: Postal envelope.
Wall Color: White.
Guess What!
Maila was sewn on World Post Day
Ad blocker interference detected!
Wikia is a free-to-use site that makes money from advertising. We have a modified experience for viewers using ad blockers

Wikia is not accessible if you've made further modifications. Remove the custom ad blocker rule(s) and the page will load as expected.