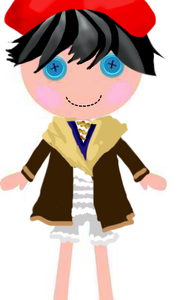 Water-ver.. I'M JUST FOND OF EXPLORERS..
Information
I think dis iz Marco Polo.. He was sewn from an explorer's map...or water-ver... He was sewn on.. September 1254... I don't really have the EXCACT date..
Personality of Marco
Ok.. he loves travelling. He rivals every explorers in Lalaloopsy Land..
I made his hair stupid.. Maybe he has a habit of makng it dirty.. He is very friendly and does everything he can to discover new things..etc etc..
He has a crush on Anne Bonny.. And he likes cheeseburgerz..He loves travelling with his pals as well.. If he has one.. --//Shuddap I made all of those things up.
What Marco Looks Like 
He has a deep black hair with dusty highlights. His eyes are aqua blue. He has a red hat thing that isn't even a hat.. He wore a blue long sleeve inner polo and white I dunno thingy and a brown long coat . Each side of the hand of the brown long coat has a lighter brown thing where the buttons are located. 
Marco's Pet
SEA OTTER.. deal with it.. 
Marco's Home
He lives in a ship..That's why he loves ship.
Other Merchandise
World Tour Series 
Explorer Buttons
FullSized Marc O. Polo
Dual Pack [what] with Columbus
Ad blocker interference detected!
Wikia is a free-to-use site that makes money from advertising. We have a modified experience for viewers using ad blockers

Wikia is not accessible if you've made further modifications. Remove the custom ad blocker rule(s) and the page will load as expected.