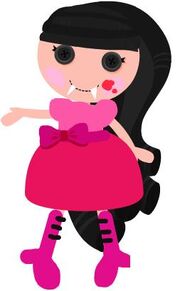 Marcy Leane Bloody (pronounced as
Marr-see-lee-yan-blo-dy
) is the 3rd doll to be released in the Adventure Buttons Line. She's a fanmade character by Aliahvenicegarcia.
Information
Sewn-On: October 5 (Vampire Day)
Sewn From: Marceline Abadeer's Dress
Marcy's Personality
Marcy loves all things pink and black! She often gets into arguments with Pinkcess Bonnibel because they don't like each other that much. She also had a fight with Pinkcess because Pinkcess wants Flare Fire Princess to stay away from Finn D. Human.She likes to scare her friends, but when something goes wrong with them, She always helps.
Marcy's Appearance
Marcy has pale skin. She has black long hair with grey/gray eyes. She has a blood mark beside her vampire teeth. She wears a pink/fuschia dress with a fuschia ribbon. She also wears "Rock 'N' Roll" boots.
Marcy's Pet
Marcy doesn't want a pet because she's afraid she'll just lose it. She just borrows the pets of her friends sometimes, although she doesn't lose them.
Marcy's Home
Marcy lives in a 5-story house that has the following:
1st Floor: Living Room
2nd Floor: Le Visitors Floor (For Boys Only)
3rd Floor: La Visitors Floor (For Girls Only)
4th Floor: Marcy Room and Corner (NO STRANGERS ALLOWED!)
5th Floor: Top Floor/Roof (PARTY ROOF!)
Marcy's Merchandise
Marcy Leane Bloody Target Exclusive Full-Sized Doll
Marcy Leane Bloody Twin Pack with Flare Fire Princess and BeepBoop BMO
Marcy Leane Bloody Water Jug (comes in Purple and Black)
Marcy Leane Bloody Loopy Hair Doll
Guess What!
She and Halre Blood Drizzle are BFFs. Marcy always calls her "Hazlrie"
She almost sucked the color red out of Miles Musicnotes' tie.
Gallery
Ad blocker interference detected!
Wikia is a free-to-use site that makes money from advertising. We have a modified experience for viewers using ad blockers

Wikia is not accessible if you've made further modifications. Remove the custom ad blocker rule(s) and the page will load as expected.