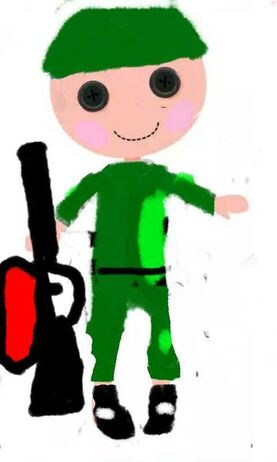 This is the first Lalaloopsy who loves to play paintball.
Information
Sewn on: November 19
Sewn From: Case for a paintball gun
Personality of Max
Max is a boy who likes to win. When he plays with his pet he always wins
What Max looks like
Hair Color: Orange
Color helmet: black-green
What he wears:uniforms military
Max's Pet
Her pet is a cute grey dog
Max 's Home
Roof: Radar
Wall Color: Black-green
Guess What!
Max was sewn on International Men's Day
Ad blocker interference detected!
Wikia is a free-to-use site that makes money from advertising. We have a modified experience for viewers using ad blockers

Wikia is not accessible if you've made further modifications. Remove the custom ad blocker rule(s) and the page will load as expected.